An exclusive fashion collection inspired by Vienna and Viennese Modernism.
The Viennese fashion designer Arthur Arbesser found inspiration in his home town for this limited mini-collection. "Arthur Arbesser X Vienna" pays homage to Viennese Modernism and the revolutionary fashion designs of the Wiener Werkstätte. The famous fashion photographer Elfie Semotan showcased the collection with the top models Cordula Reyer and Helena Severin. Highlights from the collection could be seen in Milan and Paris during the Fashion Weeks.
Vienna is dedicated to Viennese Modernism in 2018. 100 years after the deaths of Gustav Klimt, Egon Schiele, Otto Wagner and Koloman Moser, Vienna is celebrating their impressive works. On behalf of the Vienna Tourist Board, the fashion designer Arthur Arbesser has created a capsule collection inspired by Viennese Modernism for the anniversary year 2018. "Viennese Modernism focused on the essential. Not a line or detail is superfluous; a confident elegance that is just as modern today as it was then and which may express our tastes even better today than it did a hundred years ago. This is why lines by Otto Wagner, Koloman Moser and Josef Hoffmann are always consciously or subconsciously present in my work."
Arthur Arbesser is a rising star in the international fashion scene. Born and raised in Vienna, the 35-year-old designer now works in Milan. He started his career at Armani and is currently the Creative Director of the Italian fashion label Fay. Since 2013, he has also produced his own fashion designs, for which he always finds inspiration in Vienna: "Vienna has an extremely strong influence on me: a certain severity, clear, precise lines and a kind of discipline that is mixed with something softer and lighter."
Highlights from the special collection "Arthur Arbesser X Vienna" were presented on February 21, 2018 at Arbesser's Show during Milan's Fashion Week. The collection could then be seen simultaneously in Paris for Fashion Week in Arthur Arbesser's showroom. The fashion designer will integrate pieces from the capsule collection into his regular collection.
Presented by the celebrity

photographer Elfie Semotan
To highlight the inspiration for the collection and promote the anniversary year in Vienna, the original fashion photos from the Wiener Werkstätte could be seen on megaboards in such places as the Milan Cathedral and Galeries Lafayette in Paris (also linked) in the style of the latest fashion campaigns. A century ago, the photographer Dora Kallmus, also known as Madame d'Ora, staged creations by the designer Eduard-Josef Wimmer-Wisgrill. This style inspired the famous fashion photographer Elfie Semotan for her shoot of Arthur Arbesser's special collection. Elfie Semotan is a native Austrian and her photos have appeared in numerous international fashion magazines. The Austrian top models Cordula Reyer and Helena Severin are wearing the exclusive collection "Arthur Arbesser X Vienna" in Elfie Semotan's fashion spread.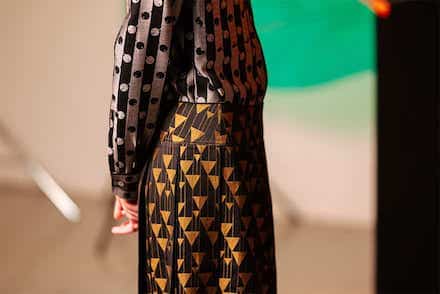 Innovative fabrics

by Backhausen
For his so-called "Viennese Attire", Arthur Arbesser used fabrics from the Backhausen textile manufacturer, which was an important partner of the Wiener Werkstätte. Koloman Moser, Josef Hoffmann and the industrialist Fritz Waerndorfer founded the Wiener Werkstätte in 1903 and also set the course for its stylistic character. Backhausen still produces upholstery fabrics and drapes based on Wiener Werkstätte designs at its weaving mill in Hoheneich (Lower Austria). Backhausen produced special fabrics with wearable quality for its collaboration with Arthur Arbesser. "Some of Koloman Moser's motifs were woven in wool-silk for the first time: The result is radiant with soft folds and great beauty," says the delighted Arbesser.

Info about where to buy Arthur Arbesser's fashion: www.arthurarbesser.com
Viennese fashion 100 years ago
Further proof of how revolutionary Viennese Modernism and the fashion of Wiener Werkstätte were is presented by 100-year-old fashion photos, which were used to promote Vienna at the Fashion Weeks in Paris and Milan and which blurred the boundaries between then and now.