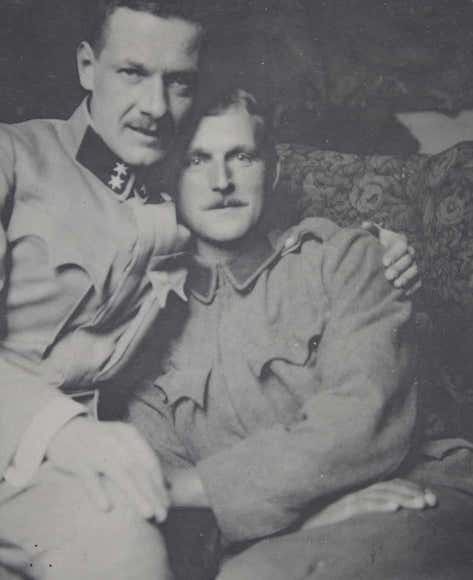 "… teasing each other with girls' names"
Turn-of-the-century Vienna was also a meeting point for many homosexuals. While homosexual acts were officially subject to severe punishment, the liberal environment and the anonymity of the big city nurtured a flourishing gay scene.
"On the evening of Easter Saturday Baron X escorted me to a same sex restaurant known to but few heterosexuals in Vienna. […] Here sat educated and uneducated men, rich and poor, bearers of historic names and simple craftsmen, all linked by a shared fate, that transcended the class distinctions," reported Magnus Hirschfeld, the Berlin-based grandfather of the German homosexual movement, in a 1901 article in a medical journal on the flourishing secret homosexual life of the city, which at the time was growing into a vibrant world capital. We can trust his expert appraisal – even though he did not divulge any names or places, since male and
female homosexuality was criminalized and held in contempt by large sections of society. The big city, whose colorful goings-on often escaped state control, offered enough niches for a diverse homosexual life, as described by Hirschfeld: "We saw men whose appearance gave nothing away, and others in make-up, powdered and decorated with beauty spots and dripping with real or fake diamonds [...] here we met a couple who we learned had been living together for more than 20 years [...] there whooped a group of 18-20 year olds full of the joy of youth, playfully teasing each other with girls' names."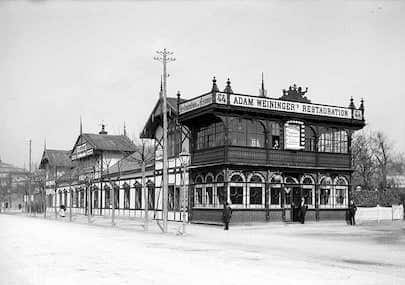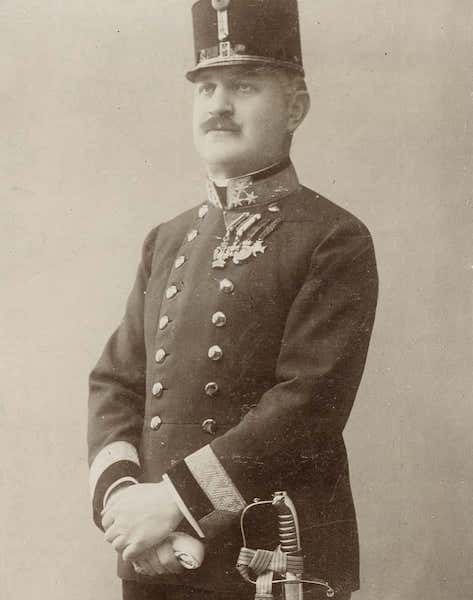 Oberst Redl

the gay spy
Hirschfeld only told of meeting places frequented by homosexual men; there are no surviving reports or eyewitness accounts of lesbian life. But we can safely assume that not only different social strata, but also sexual identities mixed freely in the places patronized by members of the subculture. It is clear, however, that things were slightly less civilized in the wine taverns, beer cellars and gin palaces outside the old town, whether on Spittelberg, on Naschmarkt or in the Prater park. At Eisvogel, one of the largest revue bars in the Prater, lesbian women gazed adoringly at the musicians in the ladies' orchestra, while the men looking for encounters in the bushes lining the Hauptallee boulevard ran the risk of
falling into the hands of blackmailers. And numerous appeals by upstanding citizens decrying Vienna's descent into debauchery illustrate what a common part of life in the city prostitution had become.
If Hirschfeld is to be believed, the "soldiers of the various Vienna regiments [...] earning themselves money on the side" were particularly popular out on the streets. Scandal broke in the wake of one such relationship, when Colonel Alfred Redl was convicted of spying for Russia and Italy in 1913, having sold military secrets to the highest bidder to finance his expensive life with his male lover. Soldiers could also be met at Vienna's numerous public bathhouses, albeit without money necessarily changing hands. The Roman baths in the city's second district of Leopoldstadt, like the Centralbad (now the exclusively gay Kaiserbründl Sauna, which counted none other than Emperor Franz Joseph's brother Archduke Ludwig Victor, aka Luziwuzi, among its patrons), were known far beyond the city as a sophisticated meeting place for gay men. The less high-stationed had to make do with the proletarian Margaretenbad or Esterházybad, both of which were close to Naschmarkt. And of all the city's parks, it was the centrally-located Stadtpark that proved the most popular as a place for homosexuals to encounter each other.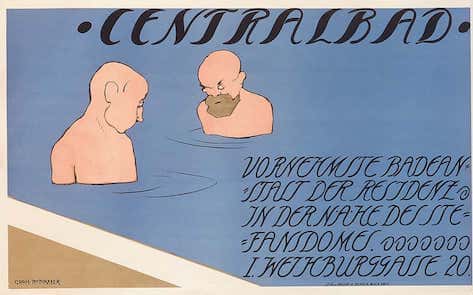 Freud was opposed to the persecution of homosexuals
Sexuality was not just a topic for art – Arthur Schnitzler and the provocative nudes created by Gustav Klimt and Egon Schiele immediately spring to mind – it also played an important role in science and research. Vienna was one of the centers, if not the center, of scientific discourse on the subject of homosexuality. Medicine, the nascent discipline of sexual research, and the various fledgling schools of thought in psychology found a particularly rewarding task in coming up with explanations for the phenomenon of homosexuality. "Pscyhopathia sexualis" by Richard Freiherr von Krafft-Ebing was not only the subject of intense discussion in coffeehouses and scientific circles. The best-selling tome, which went through 13 print runs before Krafft-Ebing's death, owed its global reputation not only to "the interest of its content [...] that overheated novel readers gleaned from his teaching of the sexual perversions" as Karl Kraus pointedly put it. Putting all the criticism of Krafft-Ebing's pathologizing basic theories to one side, his Psychopathia continues to shape the way we talk and think about sexuality to this day, as some of the terms popularized or coined by him, such as sadism and masochism, or the way that he presented different forms of fetishism have anchored themselves deep in the collective psyche.
Only one other man would eclipse his worldwide influence: Sigmund Freud, the founder of psychoanalysis, believed that people had innate bisexual tendencies and that heterosexual or homosexual libidinal drives only emerged in the course of development. And although Freudian theory saw homosexuality as a deficit in sexual development, he, like Krafft-Ebing and many other leading intellectuals of his day – such as the writers Karl Kraus and Stefan Zweig, or women's rights campaigner Rosa Mayreder – was opposed to the criminalization of homosexuality.
Many of them underestimated the forces of conservatism, and the rise of fascism, which put an end to all their efforts. A short time later the National Socialist regime would punish homosexuals with lengthy jail sentences, condemn them to concentration camps and perform experiments on their bodies. Even after their release, the threat of imprisonment and widespread condemnation by society continued to hang over them. It would take until 1971 before homosexual acts between consenting adults were no longer punishable by law. And any hopes of a new dawn for a homosexual subculture as seen in turn-of-the-century Vienna were then still a long way off.